Access
Watch and cheer on the best runners in the world from the Golden Trail World Series Fan Zone at Chandolin…
ACCESS TO ZINAL FOR ACCOMPANYING PARTIES
PUBLIC TRANSPORT
It is strongly advised to get to Zinal by public transport. The finish line is a stone's throw away from the "Zinal centre" post bus stop
Rail service to Sierre Station :
2 trains an hour both ways on the main IR90 line (to /from Brigue and Geneva-Airport)
2 trains an hour both ways on the regional REGIO line (to/from Brigue and Monthey/St-Gingolph)
Bus service between Sierre and Zinal on Saturday August 13th: more details here

PRIVATE CARS
Several free parking areas are available downstream from Zinal, in the vicinity of Mottec. From these areas it is quite easy to get to the finish line at Zinal either walking or using the free shuttle bus (which runs non-stop from 10:00 am to 22:00 pm).
Unlike previous years, few parking spaces will be available for spectators beyond Zinal on the road to the Plats de la Lée.
Once these spaces are occupied, the road access to the village will be restricted to residents, authorized personnel, race organizers, post and shuttle buses.
Take note of Road Closures on the Anniviers road, on Saturday August 13th, 2022:
The Anniviers Road from Sierre to Zinal will be fully closed twice for 35 minutes to let runners use the road from 4:40 am to 5:15 am then again from 5:45 am to 6:20 am. Access Ban applies to all traffic during those times including motorbikes, scooters and bicycles.
The road from Vercorin to Vissoie will be open at all times.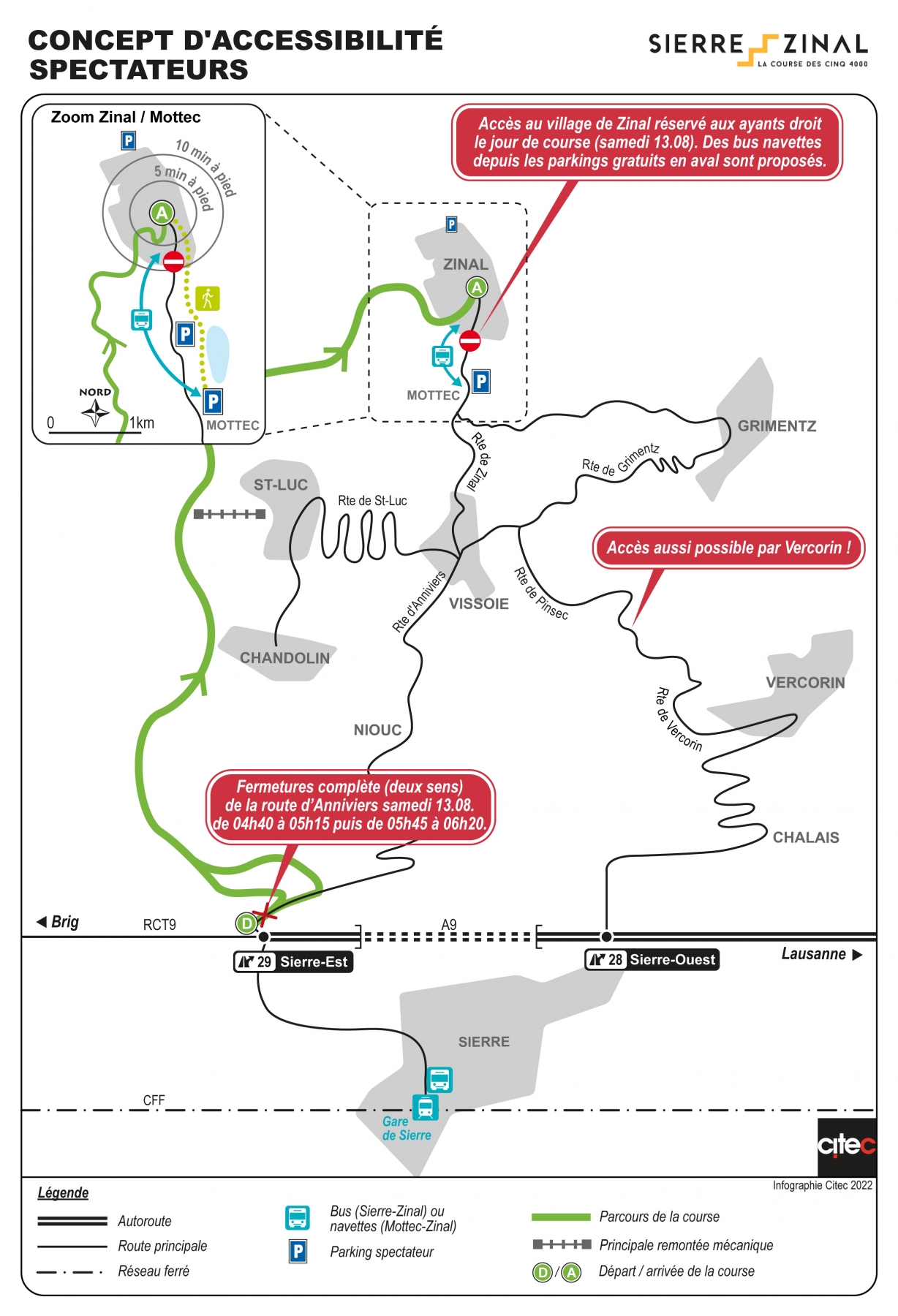 Where can I watch the race?
The best places to watch the race are:
Sierre Departure Point
The first curve of the Anniviers cantonal road overlooks the race start, providing an excellent view and beautiful vista.
Niouc
A compulsory check-point for Elite Runners, optional for those in the Tourist Category.
Chandolin
Starting at 6:25am: watch the first Tourist Runners go by.
9:30 am: Junior Runners' Race Start (departure at 10:15 am)

Starting at 11:10 am: watch the first Elite Runners go by from the GoldenTrail World Series Fan Zone.
Tignousa
The St Luc funicular takes you directly to the Tignousa Aid Station and gives you access to the highest portion of the trail. From there the Planet Path stretches all the way up to the Hôtel Weisshorn. The funicular is open from 6am to 6pm with a run every 30 minutes on race day.
This year a new and exciting event is happening at Tignousa!
On the heights of St-Luc, the stellar resort, a timed 100-m dash will be held to determine who is Sierre-Zinal's fastest sprinter.
Zinal
From the dam to the finish line you are invited to support, cheer and applaud the 5800 participants in their final efforts along the last 700m of the race.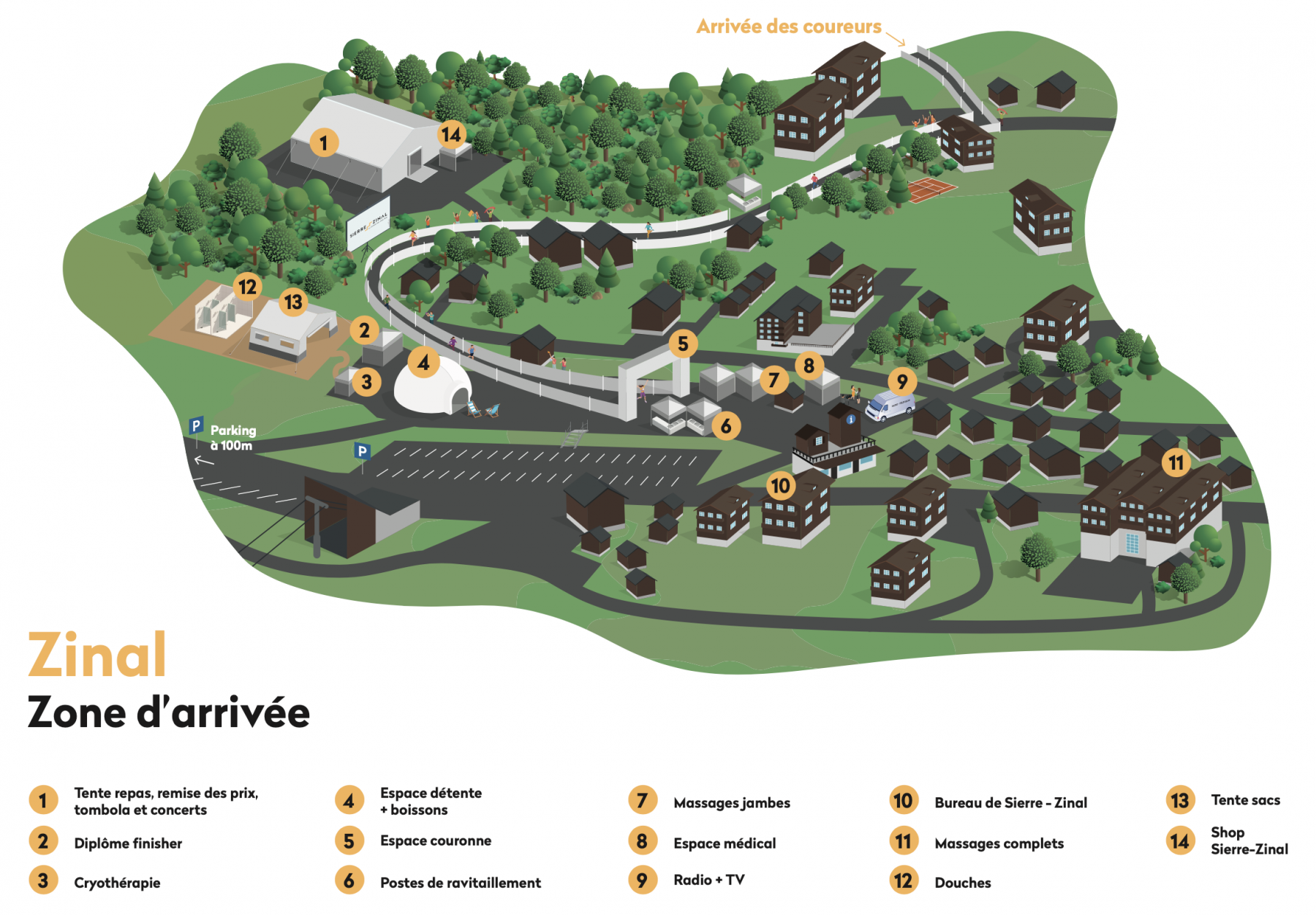 Where can I park?
There are several car parks in the various resorts (Chandolin, St-Luc, Zinal). However, we strongly advise you to carpool as these are small villages and parking areas are limited. You can also travel on the PostBuses. Routes and schedule available here.