CHILDREN RACE
"Race of the Five Obstacles" in Sierre for children 4 to 9 years old, on Saturday, August 14, 2021
Designed for children aged 4-9, this kid sister to the "Race of the Five 4000 m Peaks" is a lot of fun. The "Race of the Five Obstacles was a huge hit in 2016, 2017 and 2018 with 300 children speeding along a crazy course around the Town Hall Building and Square, and tackling five fun obstacles (a fence, a slalom, a wooden ramp, a water basin and an inflatable castle). Do not miss its 5th edition in 2021!
REGISTRATION
Registration opens on Tuesday 2 April, 2019 at 12.00pm (noon).
price
CHF 15.-
Registration for the Children's Race still possible by phone at 0041 079 710 96 09 Friday August 13 and Saturday August 14 from 9am to 11am.

No registration possible on site. Thank you
RUNNERS INFORMATION
The race is a 450 m loo, on Saturday, August 10 in Sierre (withdrawal of SZ's bibs)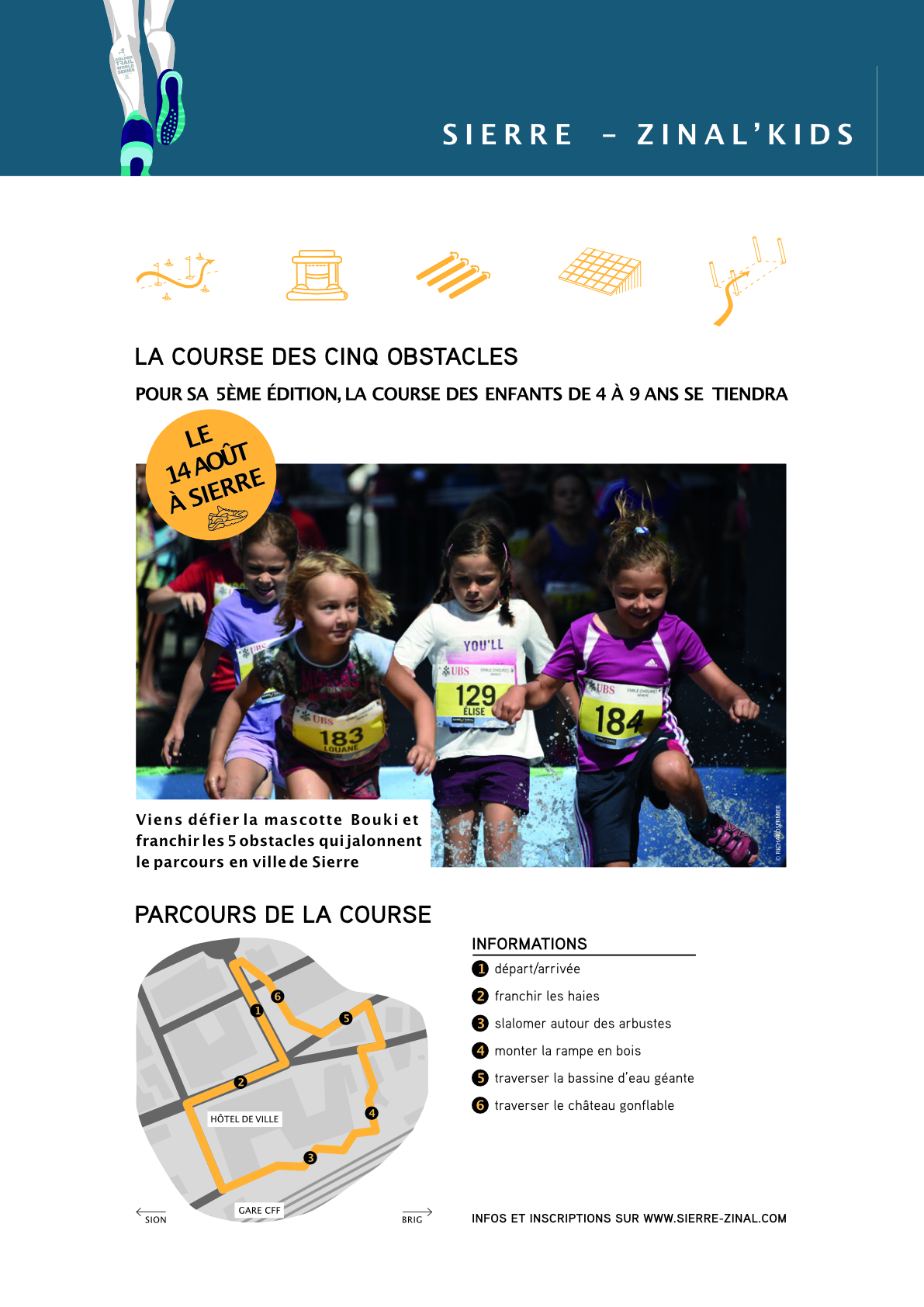 Children aged 4-5 i.e. born in 2016-2017 run 1 loop
Children aged 6-7 i.e. born in 2014-2015 run 2 loops
Children aged 8-9 i.e. born in 2012-2013 run 3 loops
Categories
Children aged 4-5; Children aged 6-7; Children aged 8-9
Entry limit: 100 runners in each category
Schedule
Entry Fees and Payment
Entry Fee: CHF 15.-
Registration is final once payment is confirmed.
Prizes
Each participant will receive a token prize.
Sierre-Zinal Mascot – The Ibex
The mascot will make its appearance at the Children's Race.
results