Golden Trail World Series
The Golden Trail World Series exist to celebrate and grow the sport of trail running to an even wider audience.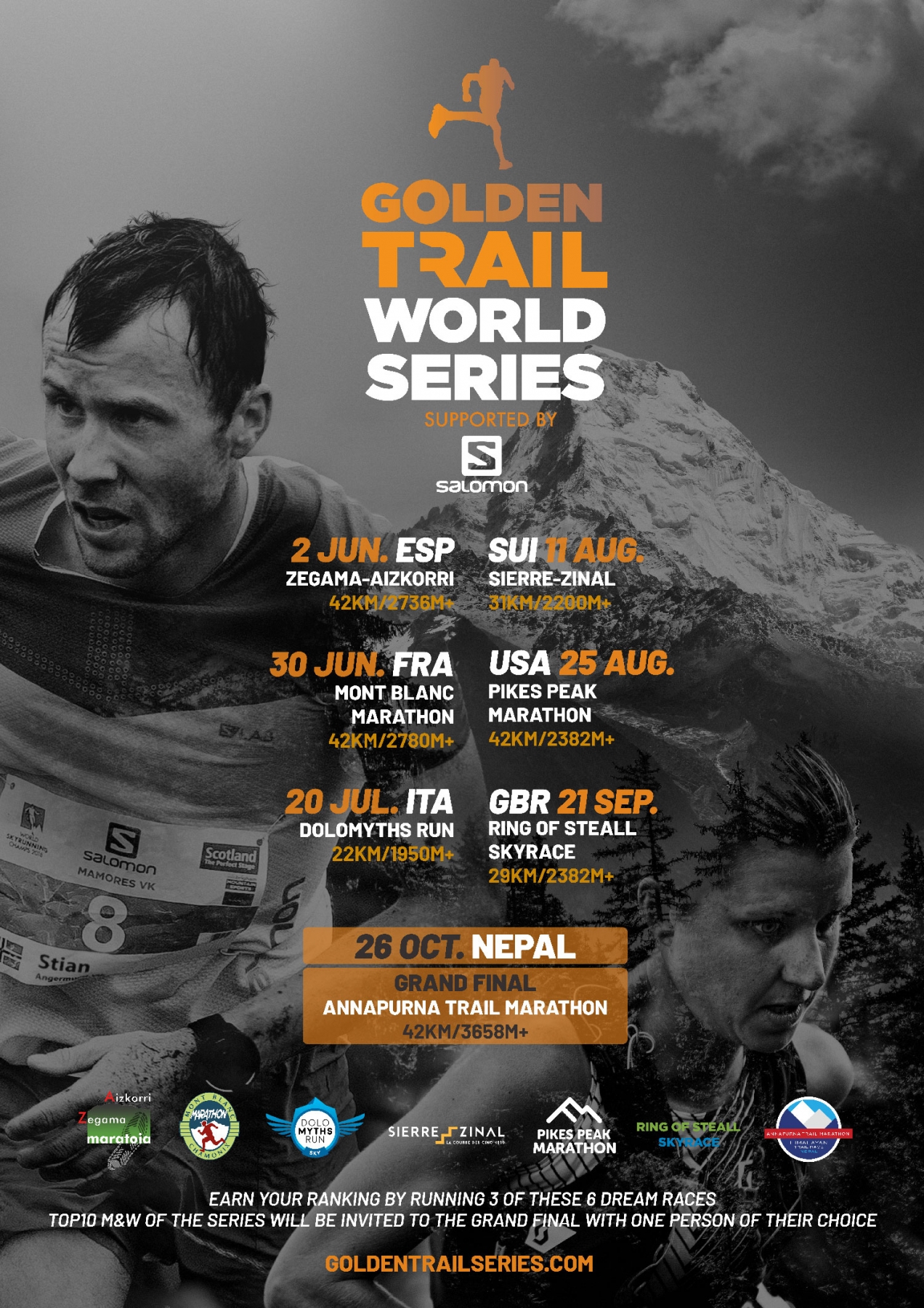 The races have been chosen to showcase the most iconic events in trail running. The Grand finale will offer an unprecedented celebration of trail running. To make the challenge even more interesting, human and unique, the Golden Trail World Series will support, all year long, a cause linked to the country of the Grand finale.
The Golden Trail World Series aims to promote professional trail runners as the world-class athletes that they are, to acknowledge the amazing, passionate fans as an essential ingredient in the sport and protect the awe-inspiring nature and environments where we play and compete. Each of the races in the series has been specifically selected because of the scenery, challenge, history and atmosphere that they offer to both the runners and to the public. These are the races that every runner wants to experience and some of the first races written on any runner's bucket list".
THE TOUR
"The Golden Trail World Series combines these iconic races into a new and revolutionary concept. A clear and simple format where each runner's best three results from the six races count. This will generate excitement for the public following the entire season and to ensure that elites meet each other a maximum of times during the year guarantying a high level on each race"
ZEGAMA - AIZKORIA, Spain
The Basque Fever
MONT BLANC MARATHON, France
The Roller Coaster
DOLOMYTHS RUN, Italy
The Couloir of Hell
SIERRE-ZINAL, Switzerland
The Fast and Furious
PIKES PEAK MARATHON, USA
The Impossible Record
RING OF STEALL SKYRACE, Scotland
The Scottish Vertigo
LEARN MORE ABOUT GTWS
Read Greg VOLLET's interview (Outdoor Marketing Manager at Salomon)