SIERRE-ZINAL UNVEILS ITS WINTER CHALLENGE
SATURDAY MARCH 11, 2023
SIERRE-ZINAL UNVEILS ITS WINTER CHALLENGE
March 11, Get prepped for the 50th running of Sierre-Zinal by joining its Winter Challenge
Choose your preferred activity: running, skating, mountain biking or ski touring and test your performance on the iconic Chandolin-Tignousa-Hôtel Weisshorn course.
Please note: No electric vehicles allowed: you are testing your endurance not a battery's.
Enjoy a great warm up in a dreamy winter scenery!
Registrations open February 11 on www.sierre-zinal.com.
Up for the challenge? You'll find all the info you need below.
Date
Saturday March 11, 2023
Location
On an official section of the Sierre-Zinal course. The itinerary begins at Chandolin (at the start of the Tsapé chairlift), goes through Tignousa and finishes at Hotel Weisshorn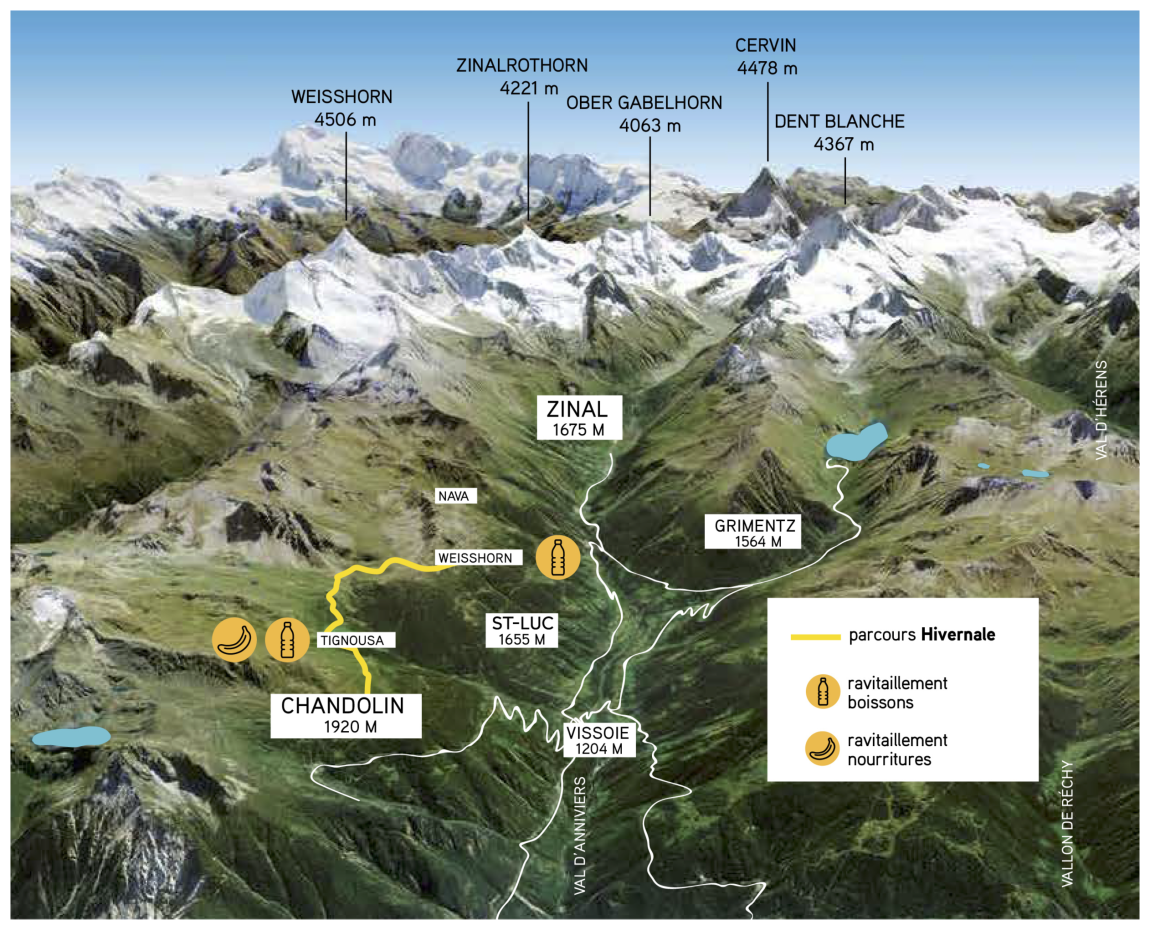 Length
8.8 km with a 517m vertical drop
Participants
Any sportsperson over 18
Signing up
Saturday February 11 on www.sierre-zinal.com
Availability
Places are limited to 200 participants all categories combined
Categories
Choose your discipline: non-electric mountain biking, cross-country skiing (skating), ski touring or running
Aid stations
At Tignousa and at the finish line at Hotel Weisshorn. Post-race meal at the Tignousa High Mountain Restaurant
Cut off time
Cut off time at Tignousa, 1 hour after the races start (9:30, 9:45, 10:00 am)
Price
50.- (includes meal at the Tignousa High Mountain Restaurant and funicular transportation fare)
Arrival
Between 9:00am and 11:15am at Hotel Weisshorn
Bibs
Race numbers can be picked up at the starting line on the morning of the race from 7:30 to 8:30am. Lavatories available
Bags
Bags will be transported to the Tignousa Restaurant
Schedule
7:30-8:30am: Bib retrieval at the Tsape
8:30-9:00am: Starting times for each of the 4 categories, more specifically:
8:30 am: Mountain Bikers' start, 8:45am Skaters' start, 9:00am Runners and Ski Touring start
9:00 am: First racers arrive at Hotel Weisshorn
11:15am: End of the race at Hotel Weisshorn
2:00 pm: Awards ceremony at the Tignousa High Mountain Restaurant
Rules and regulations available when signing up on February 11 on www.sierre-zinal.com